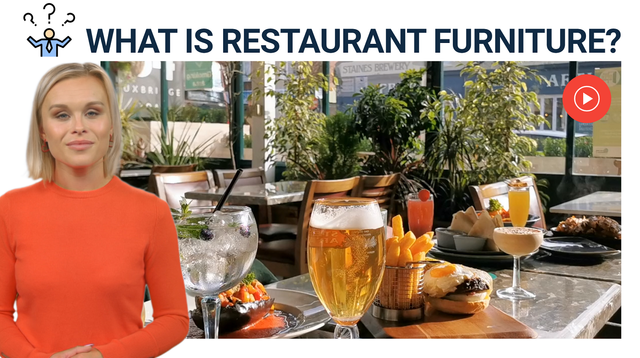 Restaurant furniture refers to the tables, chairs, booths, and other types of seating, as well as decor and other equipment, used in a restaurant setting. This can include items such as tablecloths, napkins, silverware, glassware, and other items used to set and serve tables. It may also include lighting fixtures, artwork, and other decorative elements that contribute to the overall atmosphere of the restaurant.

There are several benefits to using the right kind of restaurant furniture. Some of the main benefits include:

1 Comfort: Comfortable seating is essential for a pleasant dining experience. Customers are more likely to return to a restaurant that offers comfortable seating.

2 Style: The right furniture can help to create a particular style or ambiance in a restaurant. This can help to attract a specific type of customer and set the restaurant apart from others.

3 Functionality: Restaurant furniture should be designed with functionality in mind. Tables and chairs should be easy to move around and arrange to accommodate different group sizes.

4 Durability: Furniture in a restaurant is subjected to heavy use, so it should be made of durable materials that can withstand the wear and tear of daily use.

5 Branding: Furniture can also be used as a means of branding and promoting the restaurant. Custom-made furniture, logos or specific colors can be used to make the restaurant more recognizable.

6 Safety: Furniture should be designed to meet safety standards and regulations to prevent accidents and injuries.

7 Space optimization: The right furniture can also help to optimize the space in a restaurant, making it more functional and efficient.

Table Base Depot is a leader in the commercial furniture industry, providing high-quality and durable furniture for a wide range of businesses. We offer a wide selection of table tops, table bases, chairs and booths to suit any need, from traditional to modern designs, and all of our products are made from the highest quality materials to ensure they can withstand the wear and tear of daily use. Our team of experts is dedicated to providing excellent customer service and helping you find the perfect furniture for your business. We understand the importance of creating a comfortable and inviting atmosphere for your customers, and our restaurant furniture will help you do just that. With Table Base Depot, you can trust that you are getting the best quality and value for your money. So why not visit us today and see for yourself why we are the go-to choice for so many businesses in the commercial furniture industry.
#whatisrestaurantfurniture #restaurantfurniture #tablebasedepot