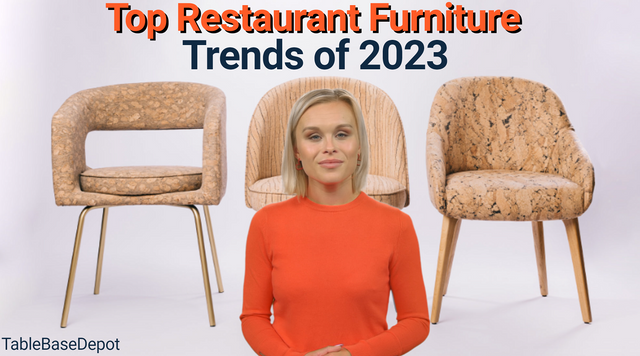 As the restaurant industry continues to evolve, so do the furniture trends that are popular among restaurant owners and designers. In 2023, we are seeing a shift towards functional, sustainable, and customizable options that cater to the changing needs of customers. From rustic and industrial styles to modern and minimalistic designs, there is a wide range of options to choose from to create the perfect atmosphere for your restaurant. 
 (CORK CHAIRS)
Here are the top restaurant furniture trends to look out for in 2023.
Sustainable materials: As consumers become more eco-conscious, there is a trend towards using sustainable materials in restaurant furniture. This includes using materials such as bamboo, recycled plastic, and reclaimed wood.

Multifunctional pieces: Restaurant furniture is becoming more versatile and multifunctional, with pieces that can be easily reconfigured for different purposes. This includes tables that can be expanded or contracted, chairs that can be stacked or used for multiple seating arrangements, and bar stools that can be used for both indoor and outdoor seating.

Mix and match styles: Another trend is the use of a mix of different styles and materials in restaurant furniture. This includes combining traditional and modern elements, as well as using different materials such as metal, wood, and leather.

Comfort and ergonomics: As people are spending more time at restaurants and bars, there is an increased focus on comfort and ergonomics in furniture design. This includes using cushioned seats and backrests, as well as designing chairs and tables that are suitable for long periods of sitting.

Outdoor furniture: With the trend towards outdoor dining and seating, there is an increased demand for durable and stylish outdoor furniture. This includes tables, chairs, and bar stools that are able to withstand the elements and provide a comfortable seating experience.